Our Concealed Carry leather vests are our most popular products lately. From what I've learned and had people tell me, all the rioting and leftists getting out of control in America people want to make sure they have something that conceals their weapon when they ride or gather with friends.
I totally get it too. The world has gone crazy and is getting more violent. Thugs pulling people out of their vehicles, thugs hitting and beating the crap out of random strangers who have done nothing to them. My customers are smart people who are not about to become victims of these leftist thugs. One of the best things you can do for yourself is buy a gun or two and if you are not experienced, go to a shooting range and practice, practice, practice. Learn to be safe with a gun and when you are ready, carry your concealed weapon with you everywhere you go.
There have been many "good guys with a gun" who have taken out a thug bent on harming people and who have saved many lives. You never know when you may be someone who is in the right place at the right time to save someone's life, maybe even your own.
Concealed carry leather vests are perfect for concealing your weapon(s). Be sure to do everything the legal way, don't let anything get you in trouble. Carrying a concealed weapon is your right but follow the laws to a T. These days there are way too many leftist commies who want to take away your right to bear arms. So, if you live in a leftist controlled city or state, follow their rules, no matter how stupid to keep yourself from getting into trouble. Don't give them the satisfaction of being able to arrest you for a felony so they can take your guns from you forever. Don't rely on what a friend or acquaintance or some internet site tells you. Look up the actual laws in your city, county or state to make sure you follow all requirements to carry legally. Then once you get your CCW, get your CCW vest so you can carry while you ride and while you go about your business.
Now, let's get to the best concealed carry leather vests we offer. I will do a little review of the characteristics of the vests we offer here to give you some perspective and some information so you can make the best choice for you.
First up, one of our most popular concealed carry leather vests is the Daniel Smart Concealed Carry Leather Motorcycle Vest with Side Laces. The reasons for its popularity are the two upgraded interior concealed carry pockets. Two pockets allows for the carrying of two weapons or just one and choose which side you carry on based on being left or right handed. If you are right handed, put your weapon in the left side pocket and if you are left handed put your weapon in the right side pocket. That allows you to reach for it quickly. In fact practice a lot of create muscle memory which will allow you to pull your gun out quickly in a scary situation, you will be able to act much faster that way.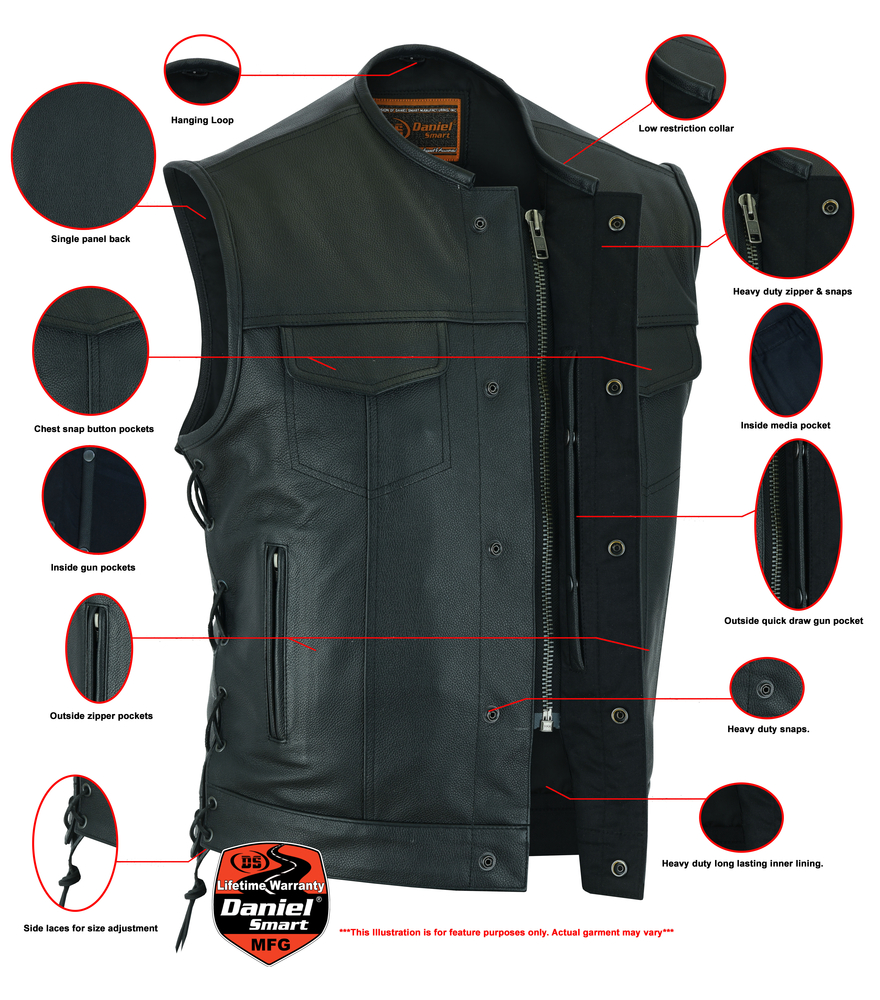 This vest also features a reinforced shoulder support for supreme concealing of your weapon. You really don't want others to see the outline of your gun through your vest so this is a feature that is very helpful for this situation.
This vest features a lot of other great things that make it popular but those gun pockets are the number one reason they choose this vest. The side laces which makes it more comfortable and adjustable is another. Our big guys love it because it comes in sizes up to 12XL which means nearly everyone can find a size that fits them.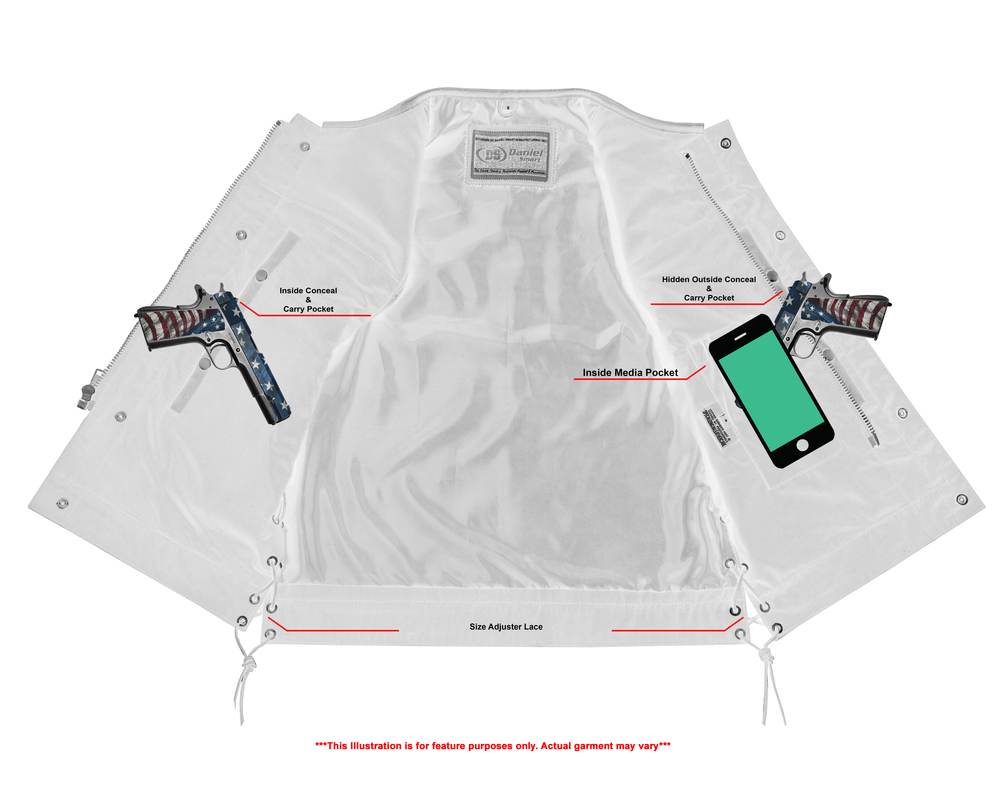 We think you will love this vest with the many features and the awesome concealed carry gun pockets.
---
Another popular concealed carry leather vest is this Daniel Smart Concealed Carry Leather Vest with Blacked Out Hardware. This vest is for those who prefer a cleaner look and want plain sides rather than the side laces. Like the vest above it also features the two gun pockets and the reinforced shoulder support for the excellent concealing of your weapons. It's really a nice looking vest made with a thick premium drum dyed cowhide leather. This vest should last a lifetime as long as you take care of it.
This vest also has some great features like an inside cell phone pocket, side zippers at the bottom for more comfortable riding. Unzip the sides while riding so your vest does not ride up then when you are standing up, close the zippers back up for a clean smooth look.
This vest is also popular with our bigger bikers as it also comes in sizes up to 12XL and as small as a size Small, something for nearly everybody and every body.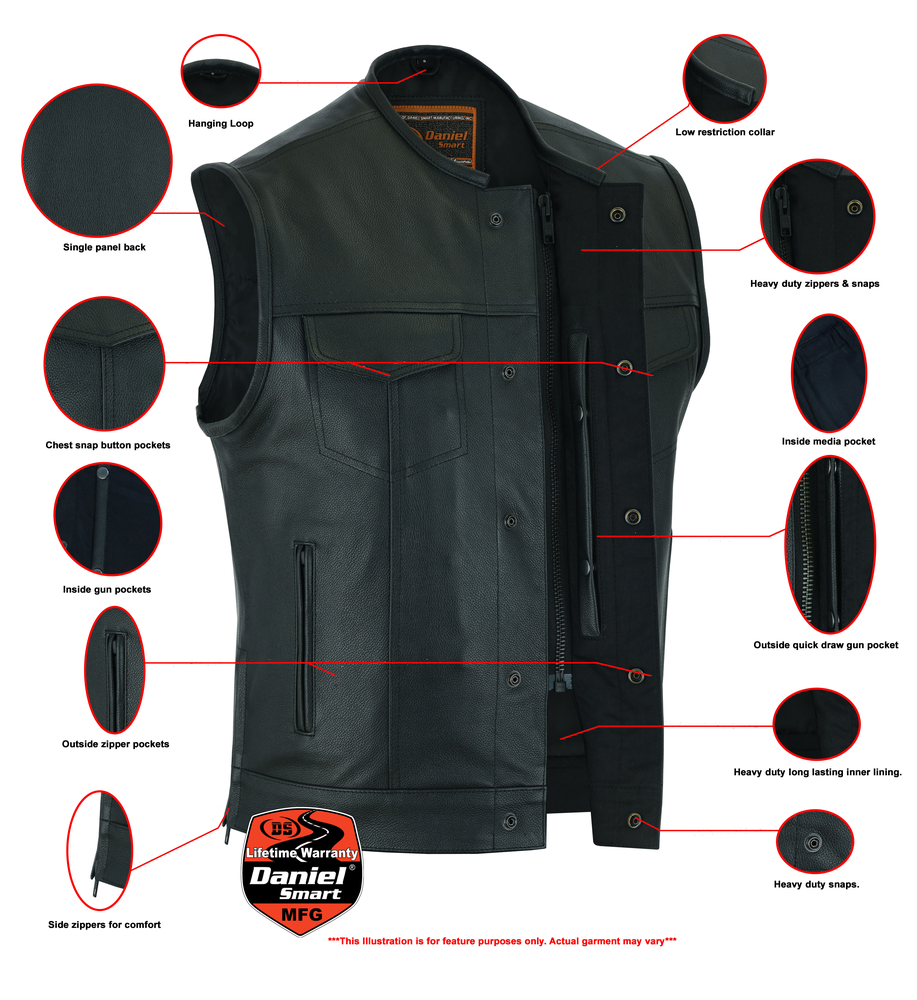 Lots of pockets for lots of storage is another great feature of this vest. You really can't go wrong with a leather vest that is made of premium leather, has side zippers for riding comfort, has a low restriction collar so your neck does not get chafed, has a cell phone pocket, pocket for media, heavy duty snaps and zippers for a long lasting and good looking leather vest. Plus the cherry on the pie which are those fantastic concealed carry gun pockets. What more could you ask for?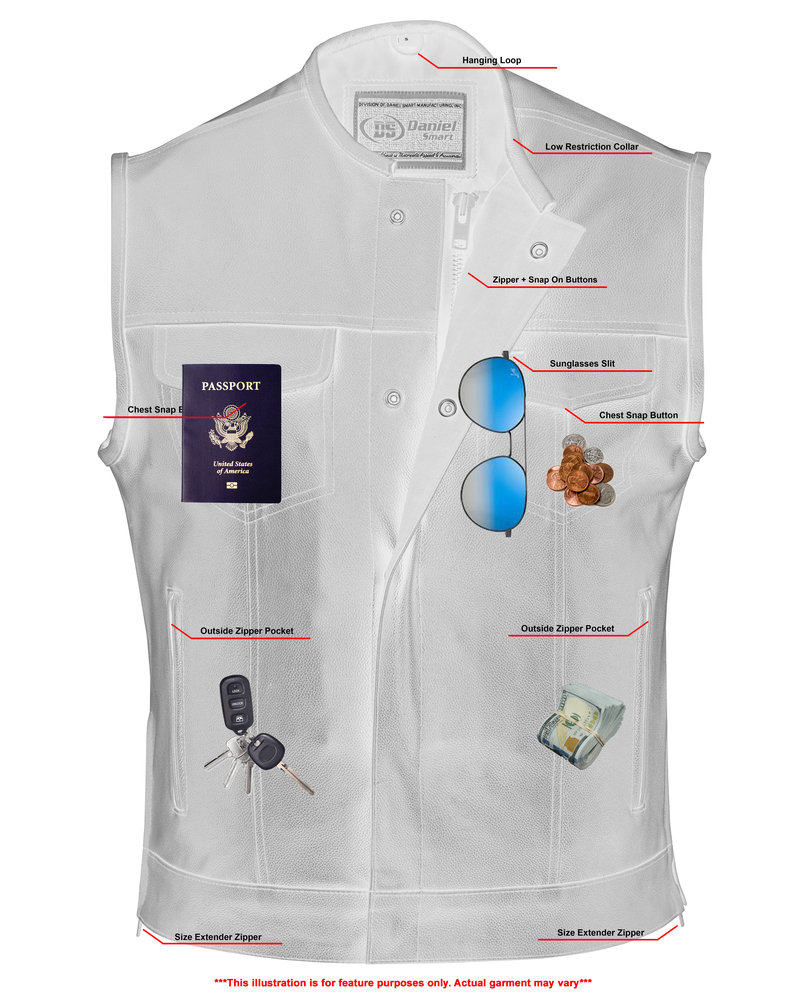 It's a small feature but such a great one. The sunglasses slit in the pocket flap keeps your sunglasses or regular eyeglasses from becoming lost when you make a pitstop while out on the road. Some of those cool sunglasses are very expensive, so you want to have a way to keep them from being lost.
---
Recent Posts
Hey there, all you gearheads and road warriors!Father's Day is revving up around the corner and you' …

The Best Women's Leather Motorcycle Jackets of 2023 As a female motorcycle enthusiast myself, I …

Leather biker jackets and vests are an investment in style and protection. With proper care, they ca …